Our Story
We are an Ecommerce service provider facilitating retailers and wholesalers in the general consumer and electronics goods market. Our goal is to free up our clients valubale time by performing tasks on their behalf that fall outside their expertise so that they remain focussed on their core business – buying and selling.
Founded in 2003, we are headquartered in Frisco, Texas with offices located internationally.
Since our inception we have helped hundreds of sellers grow their businesses by helping them manage their online stores and inventory related tasks. Our clients are spread across United States, Europe and Arab Emirates and include small businesses as well as mid sized companies.
Ecommerce entrepreneurs face challenges when they grow. They have to decide about many things to run their operations. Store and inventory management, packaging and shipping, marketing and advertising, customer service, administration and so on. No one has time and skills to do all this. Here comes Inventory Sol to ease out the pain and offer services that are vital for growth.
Our Ecommerce Services Portfolio
Real Challenges Turned into Solutions
After working with hundreds of store owners over the years we realised that they are paying heavily the way they manage their inventory. Traditional Excel and Google spread sheets may get the job done but they waste a lot of time and are error prone. Even inventory tools available on the market, and interestingly including some big names, were unable to solve some basic inventory challenges. All this led us to conceive Inventory Sol that is all in one fully automated online inventory and warehouse management solution.
We built Inventory Sol from scratch based on inputs from our staff and clients. We started off in 2017 and finished development in 2020.
Why this took us so much time?
Our goal was to build what our clients actually required to automate and speed up their work. So it turned out to be 36 different forms categorized into 6 modules:
      1. Payments
      2. Sales
      3. Purchases
      4. Stock Transfer
      5. Inventory Adjustments
      6. Reports
fully capable to record each and every aspect of buying and selling. Inventory Sol includes 6 unique inventory solutions that you will find nowhere else on the market. 
Serial Wise Identification of Products
How to Categorize Inventory
Managing Replacement Orders
Managing SKUs (Stock Keeping Units)
How to Record Payments
In-house Stock Transfers for Multi Locations Warehouses.
We are not stopping here and continue to incarporate suggestions and feature requests that we receive fromk our users spread in different countries. We encourage you to sign up Inventory Sol, use it for free forever as a sngle users and suggest how we can make to it better to fit in your business needs.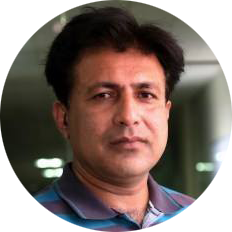 Tanveer ul Islam
Marketing and Sales
Adeem Qamar
Head of Support