It was back in 2003 when we first turned to business and set up International Business Solutions (IBS), a company in USA. Soon we started selling on eBay and established reputation as one of the top rated stores. In later years, IBS expanded its business on other US marketplaces like Amazon, Newegg, Walmart, Swappa and many more. In 2011 we started operating from Dubai, it was the time we started selling on Souq.com that is now Amazon.ae; in addition, we set up two subsidiary companies there Amir Mughal General Trading LLC and Soft LLC dealing in wholesale of electronic and general goods with authorized retailership of top brands.
In 2014 we launched our own line stores: IBS Wireless from USA, AM Tradez from Dubai and Discount Store from Pakistan covering a wide range of consumer electronics from top brands to meet the needs of wholesalers and end users. 
As we expanded we realized traditional inventory solutions available in the market had severe limitations and were unable to meet  our diversified requirements. Managing sales and purchase workflows for our self-managed online and brick and mortar stores,  warehouses located in different parts of the world as well as our shops on third party e- commerce platforms were quite a nightmare. We tried different desktop and cloud based software including some popular names on the market, however, there was no end to our challenges. 
Inventory Challenges We Faced Turned into Solutions
Serial wise identification of products
How to categorize inventory
Managing Replacement Orders
Managing SKUs
Even some apps had no modules to record payments
Since we maintain our warehouses at multiple locations we found no way to record and keep track of in-house stock transfers
Such issues affected our entire business workflow including revenue collection and customers' satisfaction level. It was then we decided to come up with our own solution that could handle all aspects of buying and selling online and offline.
It was in 2017 that we first conceived Inventory Sol and started development and today it has five different modules carrying 36 different forms that fully record each and every aspect of buying and selling. The entire software is built on inputs from our sale and purchase teams with experience of more than a decade managing our stores under dedicated domain names as well as on Amazon, Newegg, Walmart and Swappa. This is how Inventory Sol evolved to its current point where we feel confident to offer it to businesses dealing especially in serialized products.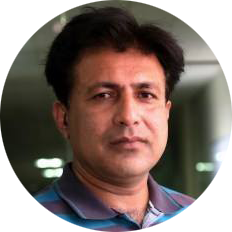 Tanveer ul Islam
Marketing and Sales
Adeem Qamar
Head of Support